10 Romantic Comedies From The 2000s, Ranked From Least To Most Feminist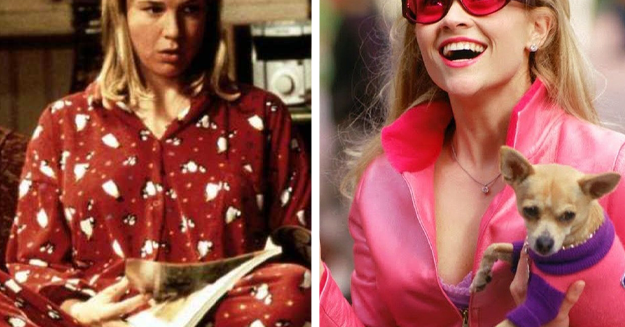 10. Love Actually (2003) Universal Pictures
Gets points for: Even though their actions are quite (or completely) clueless, at least the men in the movie aren't afraid of showing their feelings and admitting their mistakes.
Deduct points for: The standard for romance in this movie is pretty outdated (not to mention all the #MeToo situations going on, eesh!), and basically all the women in the movie get to serve as somebody's "muse," or they are just sad, or they get cheated on.
9. 500 Days of Summer (2009) Fox Searchlight
Gets points for: Even though you're supposed to pity Tom for being such a "nice guy," Summer invites empathy, and the movie does work to debunk some stereotypes about love (i.e., there's no neat happily-ever-after for the two).
Deduct points for: The female protagonist is one of the best examples of the "manic pixie dream girl" stereotype — i.e., she's a one-dimensional female character who's inexplicably quirky and solely here to help the male protagonist grow up.
8. The Devil Wears Prada (2006) 20th Century Fox
Gets points for: Women being ambitious in the workplace all over the place, plus Miranda Priestly as the #boss to end all lady bosses.
Deduct points for: The fact that Andy prioritizing work over her unsupportive boyfriend is portrayed as a personal flaw. Plus, yes, Miranda Priestly is successful, but she's also morally bankrupt and unhappy in her personal life, because of course women can't have it all.
7. The Holiday (2006) Universal Pictures
Gets points for: Being a film written and directed by a woman (Nancy Meyers). Plus, it depicts the lives of the two women protagonists in parallel without ever pitting them against one another.
Deduct points for: The age-old stereotype that all women REALLY need is a good, hunky and maybe British-accented man in their life.
6. Bridget Jones's Diary (2001) Universal Pictures
Gets points for: The fact that Bridget finds love from someone who likes her just the way she is. We also get a nice glimpse into her friendships and her rocky relationship with her mom, which is better than we can say for most rom-coms where the heroine just exists in a social vacuum.
Deduct points for: Bridget's driving motivation comes from her fear of being single after 30 and gaining weight, and it's all supposed to be soOoOo funny.
5. Something's Gotta Give (2003) Warner Bros.
Gets points for: The protagonist is an "older woman" who gets romantically involved both with older and younger men. She never considers leaving her career for them. In fact, she enjoys messing around with these very attractive guys. (And this is also a Nancy Meyers movie!)
Deduct points for: Even though the women in the movie are supposed to be very professionally successful, it seems that as soon as a man appears, everything starts to revolve around him. And we don't ever see the women characters talking about anything other than men.
4. Notting Hill (1999) Working Title Films
Gets points for: The male protagonist avoids the worst of the "macho dude" stereotypes out there, and the storyline includes examples of healthy relationships outside of the central pairing.
Deduct points for: The female protagonist hews pretty closely to the stereotype of a stuck-up diva who uses people.
3. How to Lose a Guy in 10 Days (2003) IMDB / Reprodução
Gets points for: Right at the beginning, Andie demonstrates that she has a lot of interests, and shortly thereafter there's a cool scene around female friendship. And even though it's a romantic comedy, there are quite a few parts where women talk to each other about things besides men.
Deduct points for: The fact that all of the female characters are pretty one-dimensional. There's the crazy boss, the ambitious ladder-climber, the boy-crazy one, you name it.
2. Legally Blonde (2001) MGM
Gets points for: Being a film that chronicles the "inner" transformation of of a female protagonist. Plus, good female friendships abound!
Deduct points for: The way the movie implies that you can either be an Elle or a Vivian, and also the fact that Elle initially wants only to uproot her life to win a man back.
1. 10 Things I Hate About You (1999) Touchstone Pictures
Gets points for: Kat being an ass-kicking, straight-shooting feminist who asks her English teacher why they don't read more women authors. (To which he points out that they also need to read black authors, which is maybe the closest that any of these movies come toward intersectionality. Sigh.)
Deduct points for: Building on the stereotype that all feminists are moody and mean man-haters who just need a little Heath Ledger in their lives.
This post was translated from Portuguese.
Read More