Friends remember MCSHOF inductee Hale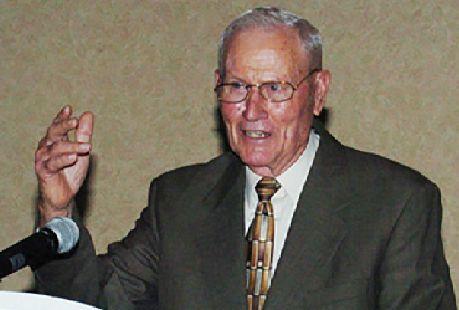 Marshall County Sports Hall of Fame member Ralph Hale, who was inducted in 2011, died Wednesday. He was 88.
Hale entered Boaz High School in 1944 as a ninth-grader. He immediately began participating in athletics. He competed in football, basketball and baseball.
High school sports were sometimes scant during this time. Many of his classmates were serving in World War II, and it was hard to field a team.
He played center and fullback on the BHS football team under coach Tommy Gibbs and Hall of Fame Coach Cecil Wright. The 1946 Pirates went 4-4-1, the best they had been in 10 years.
Hale also played on the Boaz baseball team for a year, the only year they had enough to put a team on the field.
Hale's best sport was basketball. Even though many of the players on the team were older returning war veterans, he was still a starter.
The 1946-47 Boaz team was one of the school's most successful of all time. Coached by Wright, the squad finished 22-4 and made it to the state tournament.
In one game against Emma Sansom, Hale outscored the entire Rebel team by himself because they were double-teaming former BHS Principal and MCSHOF member Ollin Hayes.
A one-point loss to Murphy High School of Mobile ended the season for the Pirates in the state tournament.
Hale was selected the best male athlete by his fellow seniors in the BHS graduating class of 1948.
Just a year after Hale graduated, basketball official Trellis Wright contacted him about becoming an official. Back then, only one official called a game.
The first game Hale called was at Etowah, where the legendary Jim Glover was the coach. Glover told Hale that he would whip anybody who booed him. He got through that game, then spent the next two years officiating basketball.
After serving in the Armed Forces, including a year-and-a-half in Germany, Hale returned home and married Dora Reaves in 1954.
He continued to officiate basketball, and in the 1950s, the AHSAA mandated that two officials call a basketball game. The officials would call two games per night for a total of $5.
Hale was a charter member of the Northeast Alabama Basketball Officials Association. He called an estimated 1,500 basketball games in his 22-year officiating career and was one of the most-liked and respected officials in Marshall County.
He became a football official in 1967 and called football for 12 years.
Hale was a bricklayer by trade, and in 1968, he became the masonry instructor at Marshall Technical School. He taught masonry until his retirement in 1991.
During his tenure at the school, Hale taught one national champion bricklayer, a second-place winner and a third-place winner.
"When I was a youngster, Ralph and Dora went to my church at the time, Mount Calvary in Albertville," said Patrick Williams, who serves as assistant principal and athletic director at Boaz High School.
"He was a great man, and I have fond memories of him. He had a great athletic legacy at Boaz High School as a member of the 1946-47 state tournament team that finished third in the state. He officiated countless football and basketball games and was well thought of as an AHSAA official.
"I'm going to miss Brother Ralph. He was always very kind to me, and I loved him."
Hale served as a deacon and Sunday School teacher at First Baptist Church of Albertville. Visitation will be Saturday from 11 a.m. until 1 p.m. at the church, with the funeral service scheduled for 1 p.m. Burial will follow in Memory Hill Cemetery.
Hale's survivors include his wife of 64 years, Dora; his son, Mark Hale Sr.; his daughter, Debbie Hale; six grandchildren and seven great-grandchildren.
"Mr. Hale was still a football referee when I moved here in 1973," said Richard "Butch" Ferguson of Albertville. "He was always fair and was never one to seek personal attention on the field.
"I didn't get to know him very well until I went to work at Marshall Technical School. He taught masonry there and was a really effective instructor. He taught job skills that went beyond just brick-laying techniques. Many of his students won state and national honors, then went on to successful careers.
"The main thing about Ralph was that he lived his faith every day and always applied that to his dealings with his family, friends, students and everyone who knew him. Ralph Hale was a great man and friend."
Ferguson is a retired administrator with the Marshall County School System. He's also a member of First Baptist Church of Albertville.
Read More